INTRODUCTION

Welcome to my new-look website of Pet Portraits and Wildlife artworks. Firstly, don't forget to Bookmark this Page (Ctrl+D) and forward to all your animal lover friends, or even 'Like' my Facebook pages and 'Twitter'. That's a must as my forum, exhibitions and events are constantly being updated, not to mention the popularity of my 'Win a Pet Portrait' competition that runs each year!
CHRISTMAS 2013
Most of my commissions are for Christmas. So as not to be disappointed, please ensure you have your order in time. You can book your painting anytime of the year. Maybe you can also share the cost with family and friends. The benefits of booking early is that I can arrange a vist and capture the perfect image for your painting. Payment plans can also be arranged to spread the cost.

Pet Portrait Winner 2011

Pet Portrait Winner 2012

Jake
If you're holding any dog show or Fun Day Dog Event, please get in touch. I have a marquee to display artworks.

Molly - Mr and Mrs Moore of Thornton Cleveleys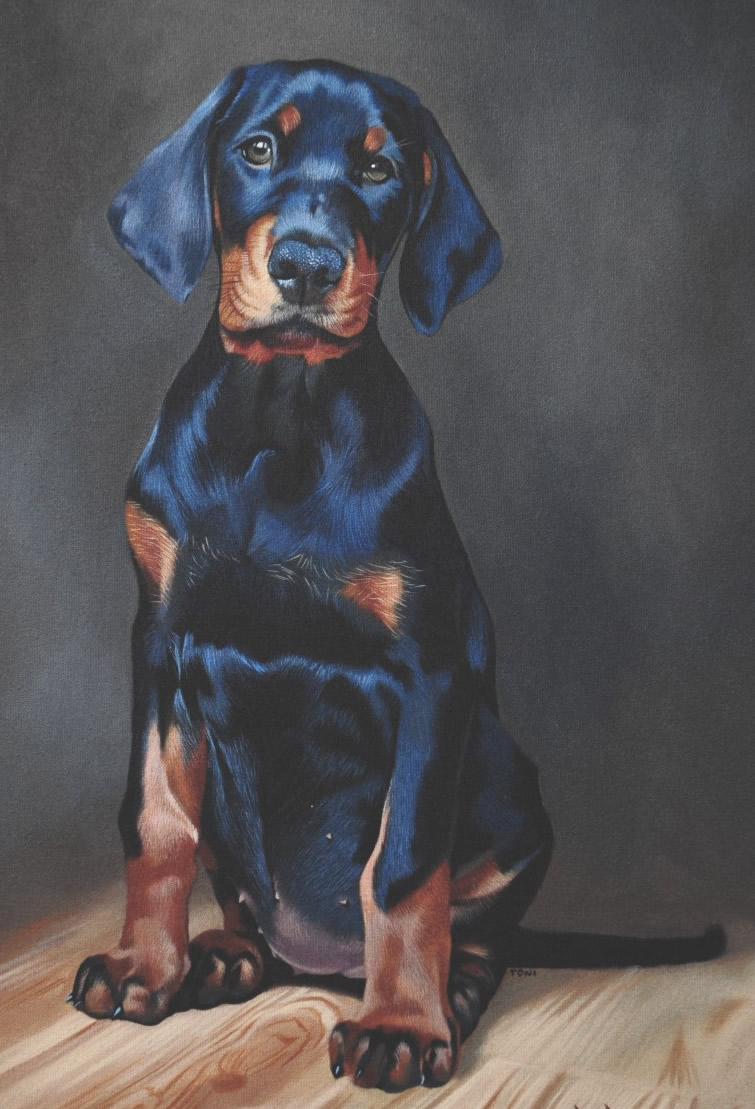 Above : Toni from Lytham St. Annes


MY STORY

Painting has always been a passion since I was a child. I used to attend local art societies and tuition courses to help me in my hobby. Pocket money was always well spent on professional materials whilst I was experimenting with art. Initially, I wanted to be a Technical Illustrator, but then my abilities in drawing and painting led me to enjoying Natural History Illustration. After studying for 5 years at Blackpool and the Fylde College, I spent my first decade in advertising. From that of a paste-up-artist, through to Production Manager and then finally running my own Graphic Design business.
However, this was short lived due to the tough competition of the bigger design houses and printers in the area. It was at this point that I fell back onto my passion of painting. After looking after a Golden Labrador, Jake, I had re-kindled my love of painting and rather than use watercolours (the choice of illustrators) I like the depth of oils. Word of mouth certainly spreads the word, and in no time at all I was receiving commissions, large and small, and from all corners of the UK.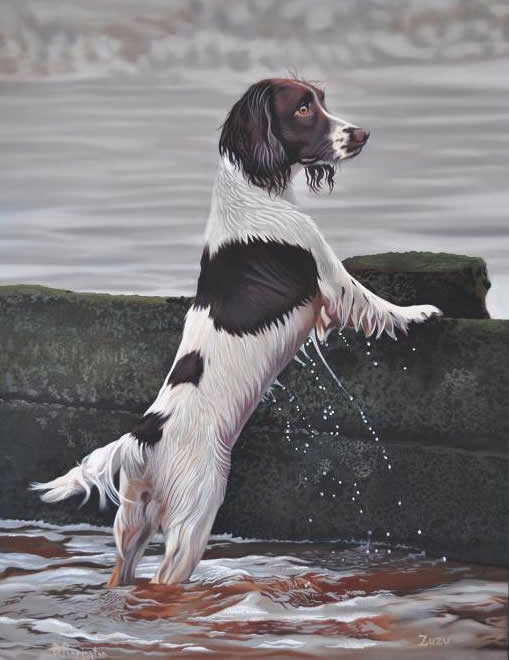 Above : Zuzu from Thornton Cleveleys
This beautiful image was captured while Zuzu was playing on the beach at Fleetwood. Whether it is a beach setting, forest, hill-top or your back garden, it adds so much more to the composition. It is worth considering this when ordering and I'm happy to trek to your favourite destination.
Above : Mazie from Carnforth